Yellow Thunder is a 2-plane, surface waivered formation aerobatic demonstration team.
David Watson
David lives in Beaumont, Alberta with his wife Caroline. David's day job is running a business marketing software and providing consulting services for the construction design community.
David trained for his pilot's license in the last Fleet Canuck in the Edmonton Flying Club fleet (C-FEOH) in 1985. Later that year, he immediately acquired a Harvard endorsement flying his father's Harvard; the same aircraft he now owns. In 2007, he purchased a Yak-52 aircraft to fly competition aerobatics, winning first place in Sportsman's category in 2009 – his first contest.
David is now a commercial pilot with an IFR rating.
Drew Watson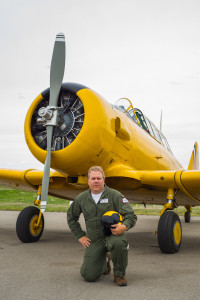 Drew lives in Edmonton, Alberta with his wife, Wendy, and two teenage children. Drew is a consultant in the information technology market providing specialized services to numerous businesses in the Edmonton region, and acts as a relief pilot for an Alberta based building manufacturer.
Drew purchased his first airplane, a Fleet Canuck, in 2000 and obtained his private pilot license in his airplane in 2002. After purchasing his Harvard in 2006 Drew furthered his career in aviation by obtaining his Commercial Pilot License, in his Harvard, in 2008. More recently, Drew received his Multi-IFR endorsement in early 2013.